Top Select™
Versatile curbside recycling
Pioneered by Labrie , the Top Select™ is a recycling body for manual and semi-automated collection of residential recyclable material. It is the first ever recycling unit built and continues to be the most sold unit in its class in North America. A Labrie innovation and an industry staple.
Application
Manual
Residential
Organics
Recycling
Tip to dump
EV
CNG
BUCKETS
CURBSIDE RECYCLING. PIONEERED BY LABRIE.
The Top Select™ optimizes collection operations by offering 2 to 7 easily adjustable compartments for pick-up of as many as 8 different recyclables from the curbside (TS1000) or from both streetside and curbside (TS2000), for precise on-site sorting. The lightweight recycled plastic separators in each loading bucket can be moved quickly & easily by hand with no tools needed.
OPERATION
SMOOTH OPERATION. MAXIMUM PRODUCTIVITY.
Two hydraulic bucket lift cylinders with fully adjustable cushions at both ends of stroke ensure smooth and easy loading. This combination of features generates high levels of collection performance: 500+ households per route, and up to 10,000 lbs payloads with the Maximizer option.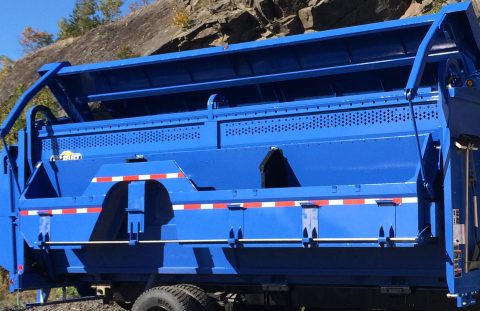 waste disposal
QUICK unloading process
The waste disposal mechanism is both simple and ingenious, as it enables the separation of different types of waste upon arrival. As recyclable materials are unloaded, the adjoining walls inside the dumpster are opened one section at a time, making the unloading process quick and easy.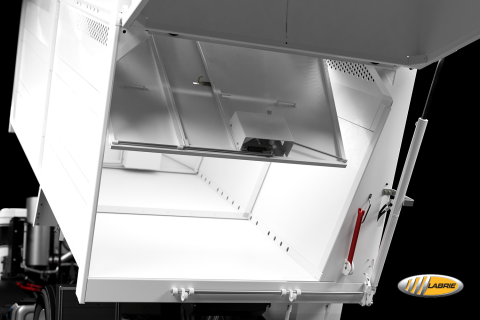 OPERATION
1-PERSON OPERATION
The Top Select™ can be operated from several driving configurations, for efficient solo operation. Stand-up Drive cab conversions are available on either or both sides of the chassis' cab.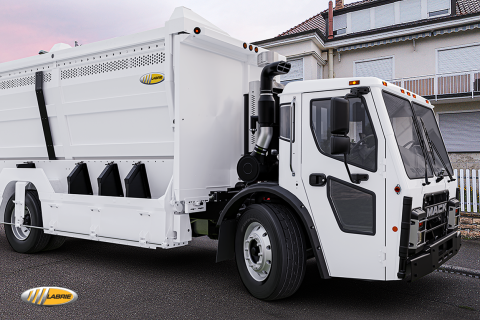 ALTERNATIVE ENERGY
EV OR CNG POWERED
The need for alternative energy is real. Meet that need with Labrie's proprietary CNG system or seamless integration to a Battery-Electric chassis. For thoroughly engineered alternative energy solutions, the answer is always Labrie.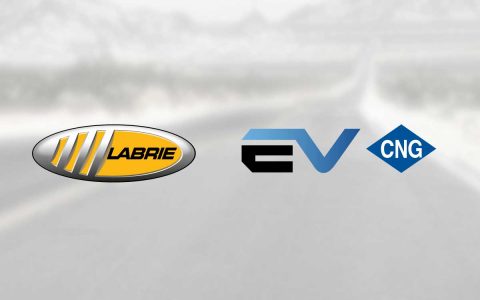 Specifications
30 yd³ to 48 yd³ body sizes available
1000 lb bucket lift capacity
Over-the-top dumping system
18" deep loading bucket available curbside and streetside
Up to 7 quick and easy adjustable compartments for different commodities