EnviroLink™ Smarter Collection
Labrie Trucks
EnviroLink™ Smarter Collection
With an improved multiplex network and analog system, the Labrie Group has laid the foundations for a brand-new era in truck intelligence. Cameras and monitors, scales, diagnostic tools, safety interlocks, alerts, GPS tracking, and more are now packaged in a more precise, reliable, and efficient Smart Collection Package.
Contact us for more Information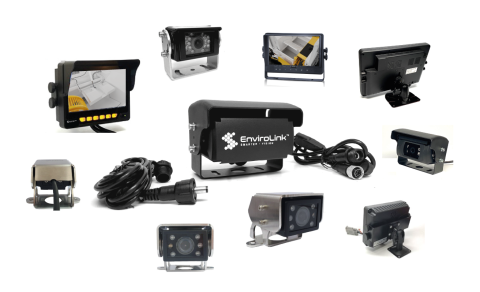 ENVIROLINK™ – SMARTER COLLECTION PACKAGE IS ALSO A BRAND NEW, REENGINEERED MULTIPLEX SYSTEM.
• Robust, reliable, and powerful controllers communicate together (and with the chassis) via Controller Area Network (CAN) and J1939 protocols.
• Improved system architecture reduces the quantity of part numbers used and stocked for service, featuring modular harnesses widely used across the entire product line.
• EnviroLink™ features an all-new 80% larger Wide Video Graphics Array (WVGA) touch screen display that allows operators and maintenance personnel intuitive navigation through menus and information for user-friendly operation.
ENVIROLINK™ ALLOWS:
• Easy and fast unit program updates (by USB flash drive, by Ethernet cable, or over the air).
• Faster troubleshooting by allowing remote access to system inputs, system outputs, and controller status.
• Easy data collection and transmission
• And much, much more.

With an array of available safety & productivity features
Robust HD Cameras (with shutter and heater) & Monitor System.
Configurable automatic monitor view switching to provide optimal visibility while: dumping carts/ containers, backing up, or performing other customer specified operations.
Smart interlocks to ensure safe and productive operation.
Newly redesigned Video Graphics Array (VGA) style fully configurable cluster for Labrie RH drive modification.
Onboard Scale System infrastructure integrated as standard options into the cab harnesses (available underbody, on the rear axle, or on Front Loader forks).
Collision Detection Systems (Front, Sides, and/or backup) [Ultrasonic or Radar].
System integrated counting device available with or without integration to back-office systems.
System integrated Engine or PTO hour meter.
Arm auto-dump programming to avoid driver fatigue and injuries.
Auto-packing after cart dumping to increase productivity.
Auxiliary controls in remote locations to increase productivity.